Technology Can Bridge the Gap for Older Americans
With more than 135,000 people dead and numerous states setting daily records for the number of new COVID-19 cases, there's no sugarcoating that America's leaders, both at the federal level and across many states, have tragically bungled the response to the coronavirus. As we're learning more about the scope of both the early peak of the crisis in New York City as well as the most recent spikes across Southern and Western states, the sad, consistent truth of this ongoing crisis in America is that older adults are by far bearing the biggest brunt of the virus.
That manifestation is happening in multiple ways, the most catastrophic being the fact that 40% of US coronavirus deaths are linked to nursing homes. And while it's true that as time has passed the death rate has slowed—which has caused experts to caution the public from drawing especially rosy conclusions—there's been a second-order economic impact on older Americans: most of them simply aren't able to work from home.
There's been a second-order economic impact on older Americans: most of them simply aren't able to work from home
This is the sobering conclusion from the Center for Retirement Research at Boston College, which last month released a report showing that for Americans aged 55-64, just 44% of people can perform their work duties remotely, and for folks 65+, it's just slightly higher at 47%. To be clear, most people in every age group have jobs that can't be performed remotely, but the difference for older Americans is twofold.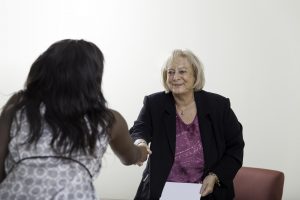 First, most in-person jobs or jobs that require significant engagement with the public are an especially challenging proposition in the age of COVID-19. And second, the alternative options from older Americans are far more limited than they are for younger adults. Age discrimination is real, and according to a 2017 study from the Federal Reserve Bank of San Francisco, people over the age of 49 face significant barriers to finding new jobs, with fewer callbacks from prospective employers as a person's age increases. And like so many issues, the problem of discrimination is exacerbated for older women. 
What this means practically for so many older Americans is that their retirement plans are being thrown into question at a particularly inopportune time, with people having to draw from their retirement savings in order to make ends meet or contemplating early retirement because of limited job prospects. And for workers who haven't yet reached full retirement age, tapping Social Security now could result in reduced benefits. This economic toll in a vacuum would be massive, considering it's a set of challenges that a majority of working older Americans are having to grapple with in some form of another. But when you couple that toll with so many of the other factors at play, it's clear that if we don't see this as an existential indictment of how we treat older Americans, we should.
According to the US Census, about a third of older Americans live alone. For those nearly 14 million people, that isolation comes with massive risks. A 2015 study from Brigham Young University equated the mortality risk of loneliness as similar to that of obesity or smoking, and other studies have found linkages between isolation and everything from high blood pressure to alcohol abuse to Alzheimer's disease to generalized stress.
This, in short, is a recipe for disaster. Older people in this country are, like so many people, out of work. Their options for alternative income are more restricted, and there's a greater short- and long-term cost for them to dip into savings or tap the government services to which they've paid into most of their adult lives. This country's leaders have made dangerous, illogical, avoidable, and short-sighted decisions that will significantly extend COVID-19's presence across American communities, meaning even more extended periods of isolation for many older Americans that will increase the likelihood of chronic health issues, particularly as people continue to delay healthcare needs out of fears of the coronavirus.
Turning to Technology
In the absence of a more robust government response—in the form of any one of an ongoing economic stimulus, widespread rent moratoriums, or mandates around mask usage to allow people to more safely move about their communities—the onus is on technology to help bridge the gap for seniors facing economic or social challenges. An important pre-pandemic study of how technology can support older adults aging in place found a strong receptiveness from study participants to becoming more tech-savvy, better understanding how to operate consumer technology, and working with trained experts to overcome barriers to technological adoption.
Organizations like the Consumer Technology Association Foundation—of which I am, in full disclosure, a board member—are committed to these goals. This work has always been important but in the midst of an indefinite, wholesale shift as to how older Americans are able to live their lives, connecting people with the technology to give them freedom and independence is of paramount importance as we enter into the next phase of our COVID-19 existence.
Connecting people with the technology to give them freedom and independence is of paramount importance as we enter into the next phase of COVID-19
And while a combination of increased technological dexterity and the work of associations, philanthropists, and other dedicated organizations will certainly help make the coming months easier for older Americans, let's be very clear: This shouldn't be the way things are. Numerous other countries have shown an ability to make the necessary short-term sacrifices in order to give people a version of their lives back. This is what we should expect from our governments, and unfortunately what we haven't gotten in far too many instances. It's unfair and unacceptable for older Americans to shoulder a disproportionate share of this burden, and it's up to all Americans to demand better from our leaders—at all levels of government.