The Importance of Connection
Low-income Americans are disadvantaged in the labor market due to limited digital literacy and broadband access. And that problem has become more acute during the coronavirus pandemic, especially for low-income Black, Hispanic, or foreign-born adults, older adults, and those who hold low-wage jobs.
Twenty-seven percent of Americans lack high-speed broadband, according to Pew research—and as many as 41% of those aged 65 or older. Before the coronavirus pandemic, 80% of those who lacked broadband at home didn't really mind because they could access the internet using smartphones or rely on free WiFi at their local public library, community center, Starbucks, or McDonalds.
27% of Americans lack high-speed broadband.
COVID-19 outbreaks in the U.S. have changed that. With restaurant dining rooms, libraries, community centers, and senior centers closed, having high-speed internet at home has become a key link to the outside world. Computers and broadband connections have become essential paths to safe education, job search, work, and even healthcare (in the form of telehealth).
As the benefits of expanded internet access grow—and as the costs of digital illiteracy multiply—so do the opportunities for charities and civil society organizations to have a positive impact by connecting people to a widening array of online resources.
Readiness for COVID-19's Digital Transformation
Sixty-two percent of employed Americans say they worked from home due to the coronavirus as of April, according to Gallup. And 70% of parents say their child was in an online distance learning program run by their school. But many Americans were far from ready for the jump to a 'stay-at-home' economy.
Roughly one-in-five parents with homebound school children say their children could not complete their school work because they lacked a computer or a reliable internet connection at home. And in the wake of staggering job losses and pay cuts, 28% of those who do have a high-speed connection at home say they worry about paying for the service in the coming months.
16% of U.S. Adults are Not Digitally Literate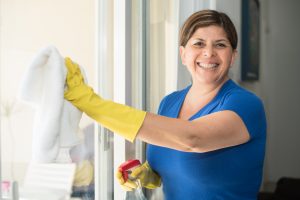 In addition to the challenges of affordability and access, it can be difficult for people who have spent their lives offline to make the switch to remote learning, online job search, and telework. That's because 16% of U.S. adults are not digitally literate—with the lowest rates of digital literacy among Black, Hispanic, or foreign-born adults, particularly older adults and those who hold low-wage jobs.
That's especially problematic now that even the most low-wage jobs can require some degree of tech-savvy. Take domestic work, for example, which has long been a key source of income for older women, particularly those from minority or immigrant communities, and those with limited education or English skills. That occupation has operated informally for millennia with jobs secured through word-of-mouth. But increasingly, domestic work is intermediated by mobile apps, which require candidates to build online profiles, upload profile pictures, and be highly responsive.
As the New York Times notes: "Nannies, elder care workers, and housecleaners might have years of experience, but that isn't enough to thrive on a marketplace platform. They also need access to a smartphone and reliable internet access, as well as skills in personal branding and internet communications."
Internet Access Has Clear Labor Market Benefits
Even before gig economy apps exploded onto the scene and COVID-19 accelerated brick-and-mortar to virtual worlds, studies found that expanded internet access and use could improve employment and earnings.
Access to broadband correlated with +1.8 percentage points in the employment rate.
In one study, gaining access to broadband services in a county was associated with a 1.8 percentage point increase in the employment rate, with larger effects in rural areas. In another, there was a significant positive association between web use and earnings growth. And in yet another, married women with children who use the Internet were found to be more likely to participate in the labor force, which suggests the internet can help people come off the sidelines of the labor market and find flexible jobs that support greater work-life balance. All of these benefits are particularly important at a time of high unemployment.
So how can the private sector, government, and civil society improve broadband access, affordability, and digital literacy in the age of coronavirus?
 Low-Cost (or Free) Internet Service and Resources
Private-sector internet service providers have for years offered $5-$15 internet plans to households where at least one member is a child
participating in the National School Lunch Program (NSLP), a senior eligible for Supplemental Security Income (SSI), a Supplemental Nutrition Assistance Program (SNAP) beneficiary, or a veteran receiving public assistance. Since demand for welfare programs swells during a recession, eligibility for these low-cost internet programs automatically grows, too, whether potential beneficiaries realize it or not.
Over and above that, some providers have ramped up their efforts during the pandemic by offering free internet access for a limited period. In addition, online learning platforms have made large numbers of certificate courses available for free during the pandemic. Civil society organizations can alert low-income communities to these opportunities.
Even in normal times, there are plenty of free online products and services available, and the internet has opened up unprecedented access to information about companies, job opportunities, working conditions, and skills requirements.
Government Spending on Broadband Access Initiatives
The public sector also plays an important role. Although the majority of Americans don't think it's the government's responsibility to provide internet access to all, the federal government has mounted numerous initiatives over the years aimed at closing the digital divide, and these will likely continue no matter which party wins the November election. For example, the Trump Administration's $1 trillion infrastructure package reportedly sets aside funds for 5G wireless infrastructure and rural broadband, as does the infrastructure plan unveiled by House Democrats.
Various government efforts to bridge the digital divide, past and present, have a mixed record of success.
The Federal Communications Commission (FCC) Lifeline program provides discounts on monthly internet or phone bills. But the discounts are relatively small, and enrollment rates are low.
The U.S. Department of Agriculture (USDA) has made billions of dollars of loans and grants available to build broadband infrastructure in rural America. But the FCC has expressed concern that subsidized providers often lack incentives to invest in rural areas with the greatest need where computer ownership and computer literacy tend to be lower.
A constellation of state programs has increased the number of connected residents, but progress has largely stalled because the low-hanging fruit has already been picked. The work that remains is to connect areas that are the most difficult and expensive to serve.
One of the most promising and highly publicized past initiatives was the "ConnectHome" public-private partnership through which Google Fiber and the U.S. Department of Housing and Urban Development (HUD) provided families in public housing with broadband internet. But even that program was quietly folded after failing to meet its goals.
This Time is Different
In the past, the assumption that demand for broadband service would quickly emerge once service was extended turned out to be false. Even low-cost internet can be prohibitively expensive for some households, as is purchasing and maintaining the necessary hardware and software.
But this time is almost certainly different. The benefits of being connected are greater and the stakes are higher than ever before. With doctors' offices closed, public transportation limited, senior centers and community centers shuttered, and even in-person religious services limited, broadband is a literal lifeline in the age of COVID-19.
The success of past efforts has been limited because "no major federal programs currently support consumer outreach and education," notes the Congressional Research Service. That's the key place for charities and civil society to step in and make a meaningful difference. The resources are out there, whether in the hands of the public sector or the private sector. Community-based organizations can help low-income Americans find them, learn about them, and use them to their advantage.
The benefits of being connected are greater and the stakes are higher than ever before.